A unique, illuminating, transformative adventure in parenting.
Learn: The 3 steps to enlightened successful parenting

Regain: Your balance, sanity and joy of parenting

Experience: Easy, effective parenting methods, plus relaxing, energizing techniques

Satisfy: Your desire to know that you're parenting "right" without guilt or remorse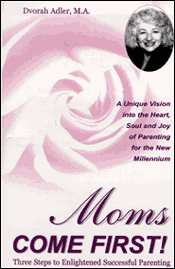 My goal as an enlightened parenting educator isn't just to support you in becoming "good" parents, who are raising "good" children. We have enough seemingly good, well-adjusted and depressed teachers, doctors, artists, lawyers, writers and preachers. My goal is to support you in becoming enlightened (balanced and happy) parents who naturally raise contented and fearless enlightened children, who know who they are, and are capable of fulfilling their heart's desire.
This easy, natural and profound knowledge is dedicated to you, Moms. For your love, your sweetness, your natural talent for healing, and for your incredible strength and fortitude in the most trying situations. I love you. I'm here to remind you of your worth and contribution: not only to your kids and family but to the world. Know that YOU COUNT. Everything needs the sustenance and blessing of Mother. As you begin to recognize and live YOUR full value, your children, your family, and the rest of the world will too.
Much love and good wishes to all of you!
your friend,
Dvorah Adler